"Positioning Ourselves to receive the fulfillment of God's Promises"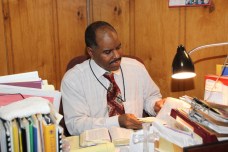 Welcome to the Home of Trinity Outreach Ministries
Church of God in Christ
September 6, 2011
Recently, I was reflecting on the vast amount of people that have come through the doors of our church. This church building must have had thousands to come through since the established year of 1962. I can remember as a little boy growing up in our church the countless programs and services that proceeded with standing room only. I remember the saints' level of involvement being high as ever. Church was a true place to fellowship and worship. But as the years passed away, those saints of yesterday began to pass away as well, one at a time.
Today, the church is left for us to carry, but we must somehow capture the spirit of the former saints in effort to be sustainable. Today, the church doors are swinging both ways as we see people coming and going; however, faithfulness will forever be the key as we strive to recapture that spirit of "yester-years".
The fact is, churches everywhere are experiencing decreases in attendance. It has been reported that there are 400 fewer churches since the year 2000 which reflects an 800,000 drop in overall church goers. New membership has fallen from 120,000 in the year 2000 to 80,000 reported in the year 2008 even as the population increased. The scripture states in Isaiah 43:19 "Behold I will do a new thing, now it shall spring forth, shall ye not know it? I will even make a way in the wilderness and rivers in the desert." The scripture encourages us to first be faithful and acknowledges that God is faithful. The scripture further states that God keeps things relevant, fresh and new. I have learned that what generally inspire people to stay faithful and committed to the church is "witnessed" actvity. People must work. The spirit to work is essential. Saints need a place to express their creativity which lead to new approaches to ministry. New approaches lead to new involvement from new members. New members working can re-energize the older church members who have since grown weary and discouraged from long-term service.
Saints, it is our job to work continually at preserving the values God has placed before us. Our committment, dedication and determination to promote the gospel truth is mandatory today, more than ever.
I encourage each one to live a life reflecting Jesus Christ in the midst of family, friends and the church. The examples we show are part of the reason why others choose to stay around or utilize the swinging doors. Our personal committment to the church should never be taken lightly. Remember, someone inspired us to come to church. We don't want any saint to become "missing in action (M.I.A.)", we prefer that all is regarded as "ready for action".
God bless you all........see you at church!
"I see you in the future and you look real good."