Home and Foreign Missions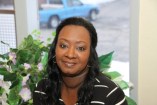 Sister Donita Steward is the president of Trinity's Home and Foreign Mission Department as she was assigned this position in 2010. Since this assignment, she has supervised many activities that are responsble for delivering support services in the way of food, care and prayer to those in need. She is also responsible for spearheading the AA program which have since celebrated it's Tenth Anniversary; helping others to realize the blessings in sustained sobriety. She is active as she works with the Pastor to accentuate the "Outreach" portion of our mission statement, not just in words spoken but in services rendered.
Pray for her continual ability and desire to do the work of the Lord in missions.
Feed My Sheep
This ministry is responsible for making food available for the community to bag up and take home. This is also an opportunity to have devotion with the participants that will come from the community that will not come on Sundays or any other day of the week. All are welcome to join Trinity on Tuesday's from11:00AM to 12:00PM for natural and spiritual nourishment.
Elijah Bryant Long Term Care Ministries
This ministry takes place every Second Sunday as the representatives from Trinity caravan to this Care Facility to promote programming that would usher in the spirit of praise and worship. Singers, dancers, musicians and those with testimonies and a Word from God will accompany the group every time. Gifts are given to the residents as well as smiles and heart warming gestures that would demonstrate the love of God. When sharing the blessings of God, Trinity will not forget the sick and the shut-in.
Homeless Run
Every month, Trinity volunteers will get together and prepare a meal spiritually and naturally to serve to 75-150 people at selected Homeless Shelters within the downtown area of Greater Cleveland. The people are given hot food with a warm smile and a Word from Trinity's ministry. With each visit, the menu may be different, but the message will remain the same; "Jesus can pick up the pieces".
First Choice AA Meeting
The alcohol anonymous group encourages each other to remain sober one day at a time. This group meets every Wednesday evening at 6:30PM in the lower auditorium of Trinity. All are welcome to provide added support to the group. You can also particpate and renew your personal committment to stay clean.